Repsol Norge has become a partner in the new LowEmissions Research Center located in Trondheim
Repsol Norge has signed a consortium agreement with the new LowEmssions Research Center for the development of knowledge and technology that may contribute to significant reduction in greenhouse gas emissions from the Norwegian Continental Shelf. The center was opened by Minister of Petroleum and Energy this summer.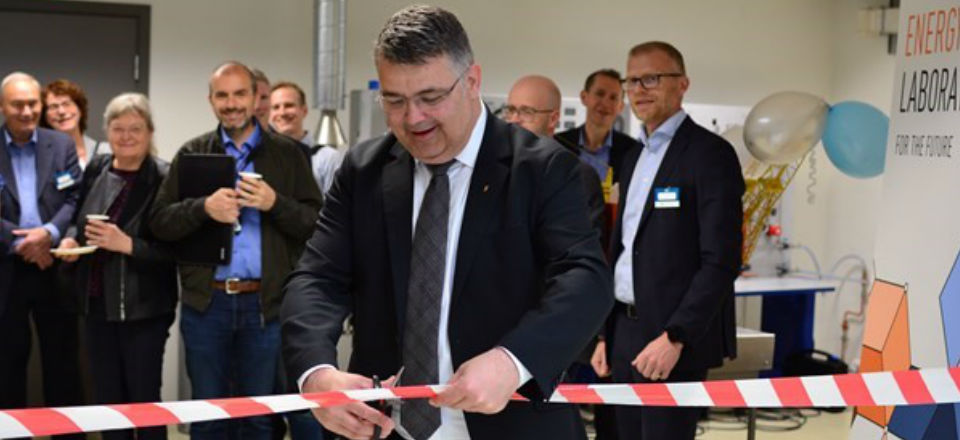 Minister of Petroleum and Energy Kjell-Børge Freiberg opens the new center, sponsored by among others Repsol, in Trondheim. Photo: Sintef
LowEmission will develop new technology and concepts for offshore energy systems, energy efficiency and integration with renewable power production technologies for application on the Norwegian Continental Shelf (NCS). This will help the industry to meet its 2030 and 2050 emission reduction goals, as well as paving the way for zero-emission petroleum production by 2050.
" This is our new national low-emission technology team in the petroleum industry. I have great expectations for the work that is now starting. Cooperation will be an important key to success. We need high scientific quality, but also users from the industry who are willing to test the technology and use it. Therefore, it is gratifying that so many from the industry are interested in playing an active role in this center", says Minister of Petroleum and Energy Kjell-Børge Freiberg.
Just before Christmas 2018, Sintef Energi was commissioned to create a new research center that will work with low-emission technologies for the petroleum industry. The announcement of the center was made by the Research Council of Norway, and Sintef Energi won in tough competition with other players.
The center is being established for a period of eight years and is financed with an annual grant of up to NOK 15 million from the budget of the Ministry of Petroleum and Energy. In addition, oil companies and service companies will contribute financing. The total budget for the center will be almost NOK 350 million.
Repsol's commitment to energy transition towards a low -emissions future
Globally, Repsol is committed to transition energy production towards a low-emissions future and our carbon strategy is resting on the following pillars: Energy Efficiency, Low Emissions Businesses, Natural Gas, Internal Carbon Pricing and the Capture, Use and Storage of CO2.
Becoming a partner in the LowEmissions centre in Norway is a contribution to our global commitment.
"I am thrilled that Repsol Norge is now part of such a large group of leading global companies and top researchers aiming to tackle our common challenge of reducing our industry's CO2 footprint", says Espen Enge Repsol Norge HSE Manager, who is also on the LowEmission Board for Repsol Norge.